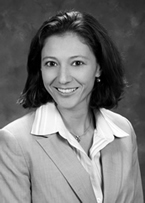 Julie M. Araujo
Member
Julie Araujo has over 15 years of experience reviewing, negotiating, drafting and litigating complex commercial contracts, both domestically and internationally. In her role as a transactional lawyer, Julie has advised clients in the oil and gas, energy, maritime, construction, shipping and engineering industries with a wide range of contractual relationships, including construction contracts, repair contracts, master service agreements, operating agreements, distribution agreements, equipment and land leases, teaming agreements, charterparties, hold harmless and indemnity contracts, non-disclosure agreements, and many more. With each client, Julie is devoted to understanding their core business, their culture, and their goals, in order to better provide each client with tailored, cost-effective legal services and advice. Long-standing clients of the firm frequently call upon Julie's experience and expertise to assist and guide them through their toughest and most financially significant commercial considerations and contractual negotiations.
Julie's transactional experience has given her distinct advantages and insights when she switches to a litigator hat to provide her clients advice and services during times when they may need it most-when they become embroiled in disputes. Julie has successfully handled numerous contractual disputes and claims both "out of court" and in various state, federal, international and arbitral forums.
Through her years of representing both contractors and project owners, Julie has developed a niche construction disputes practice. Construction project claims involving delay, disruption, loss of productivity, inefficiency, acceleration, compression of schedule, design defects, cumulative impact, and indirect or consequential losses cannot be successfully handle by general practitioners. Julie possesses the specialized experience, training and skill which are required to provide her clients with the winning edge in construction disputes.
Jurisdictions Licensed to Practice
Louisiana, 1999
Court Admissions
U.S. District Court, Eastern, Western and Middle Districts of Louisiana
U.S. District Court, Southern District of Mississippi
Education
Juris Doctor, Tulane Law School, 1999
Bachelor of Arts in Political Science, Rutgers University, 1992
Professional & Bar Association Memberships
Louisiana State Bar Association
American Bar Association
Federal Bar Association
Partner Member of the Shipbuilders Council of America